Hello there my wanderlust kindred spirits. It's a bit of a funny time for a lot of things, especially travel, but that shouldn't stop you from planning that trip. Which is why I'm sharing 5 places worth visiting on solo trips. So if you're wanting to take the plunge and book that solo trip, this is for you. Well anybody really but you know what I mean!
5 Places Worth Visiting on Solo Trips
Berlin Wall
I went to Berlin for a weekend and really didn't know what to expect. What I got, was a weekend filled with fun, food and culture. Obviously, there are places that aren't worth the hype but this isn't one of them.
Although, there will be a lot of people visiting and wanting to take a photo in front of the more famous paintings, it's worth the hassle. The colour, the feelings, the emotions that flow when you think about the history. It is so worth it….sorry that sounded like a Lo'real ad 🙂
The Flåm Line, Norway
I've wanted to take this train ride for the longest time and earlier this year, I made it happen. I'm not a big fan of the cold but this I gladly braved the cold for and it was epic! Luckily, I travelled with hydrating skincare products to protect my skin.
Based between Bergen and Norway, this train passes through the fjords. It was, is and forever will be breathtaking. If you read my blog post, here, you can get the full run down. But if you want to see a video on it, check on my IGTV video and experience the cold.
Pena Palace, Lisbon
Some places stay with you more than others and Lisbon is one of those places for me. Not only because of the food and history but, also because of the culture. You get to see all of this at Pena Palace.
Located a short train ride outside of Lisbon, Pena Palace, is where your inner Princess wants to live. Prepare to spend at least half day there, getting lost and enjoying it.
Monkey Forest, Bali
I had so much fun in Bali, so much so that my heart yearns to return to explore. More than just being a place that lots of tourist flock to, Bali was a place for me to rejuvenate after a really difficult time in my life. One place that stayed with me was the Monkey Forest.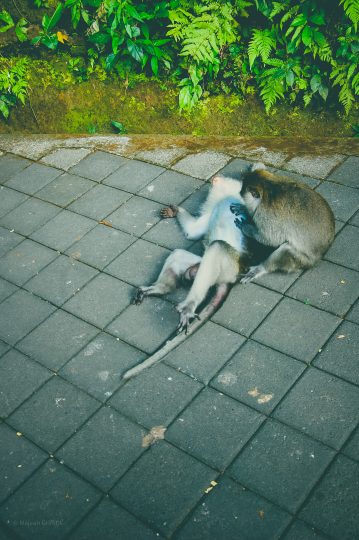 You get to walk through the forest and watch the monkeys frolic about. Quite funny and clever animals. I don't know if it's the combination of being in nature and chilling with some monkeys, but, I found it therapeutic.
Eze Village, France
I never knew about Eze Village in the South of France. Do you know about this place? A village that still has it's medieval feel and the streets to match. It's worth the trek up the hill because the views are stunning and you can go into the gardens at the top.
Enjoy a bit of lunch on your way back down and some of the local art. So unexpectedly beautiful and definitely worth the visit.
This completes the 5 places worth visiting on solo trips. Have you been to any of these places before? Which one would you go on a solo trip to see? Let me know in the comments below.
Thank you for reading and remember to subscribe for the monthly newsletter, it would really help me out. Oh and leave a comment too!
Until next time, be well! x