Why hello there you beautiful travel soul. How are you doing? It's Thursday so you know it's a travel related post. I did a solo trip to Sicily at the very end of June into July. I had such a great time and these the 3 things you have to do in Sicily. Also, if you'd like a break down of costs please let me know and I'll do a dedicated post.
3 Things You Have to Do in Sicily
Explore Catania
I flew into Catania from London Gatwick a la Easyjet and took hand luggage only. It was only for a few days but this suitcase with compression cubes help immensely. Anyways, I took the bus and stayed in Catania as my base. At first glance I wasn't so impressed until I walked around. They have a gorgeous Duomo that makes the most beautiful sound when the bells are chiming. It wouldn't rival the Sistine Chapel but it's beautiful in its own way. There's also a beautiful garden that's an oasis in the middle of a bustling city. You could take mini train tour around to get to know more about the area.
Day Trip to Taormina
If you follow my any of my Instagram accounts (here and here) you would have seen some beautiful scenery of blue skies, blue water whilst on a winding road. That was my journey to Taormina after getting off the train. It's a beautiful part of Sicily that is quite popular and with good reason.
If you want to have a beach day, Taormina is that girl. If you prefer getting lost in the Sicilian streets whilst having a granite, she is also that girl. Or if you want to visit an ancient amphitheatre that is still used for concerts to this day with spectacular views, you guessed it, she's that girl. Oh and not to mention some impeccable gardens that overlook the picture perfect blue waters.
Boat Around Ortigia
If you hop on another train but this time heading south east to Syracuse, you will end up in Ortigia. Beautiful buildings and monuments that make you feel like you've gone back in time. Three bridges connect Syracuse to Ortigia and again it's another stunning part of Sicily.
I took a boat tour around the island and felt I was living my best 'la dolce vita' in that hour. Instead of deep blue waters, the waters were green and glorious! We were taken into a couple of caves and there was one in particular that was used for escape. This is something I highly recommend doing if you're visiting there.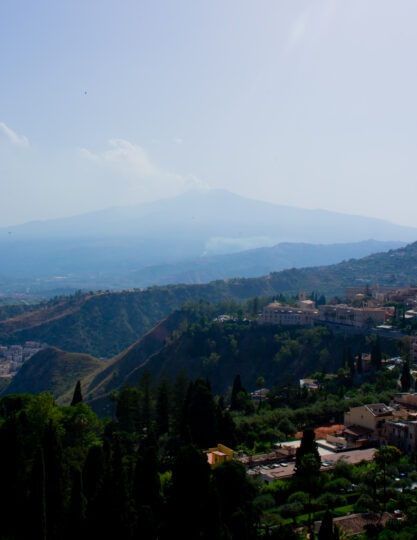 There are lots more you can see and do in Sicily such as going up Mt. Etna however, visiting a volcano in 30 degree heat was not my idea of fun. If you are short on time then these the 3 things you have to do in Sicily. If you
I'd love to know if you've visited Sicily before or, if it's on your bucket list now? Let me know in the comments below.
As always, thank you for reading and until next time be well! x