Hello my beautiful travel junkies! What a year and a bit it has been for travel, well life really. I haven't been anywhere since February 2021 when I went to Iceland. Needless to say I am waiting with abated breath to find out when we can travel from the UK later on this month. In the meantime, I've been religiously watching other travel junkies who have been able to travel or have been sharing their previous travels. Here are the 5 travel junkies you need to follow if you're suffering from wanderlust.
5 Travel Junkies You Need to Follow
Handluggage Only
This is a duo started their blog and subsequent travels whilst working a 9 to 5 job in the City. They used to finish work on Friday evening and hop on the next available flight out somewhere in Europe and be back in time for work on Monday morning. Most of the affordable trips were hand luggage only hence the name. I've met Lloyd and Yaya and they are 2 of the nicest humans you could ever meet. Not to mention, they know where all the good places to eat are. When I went to Madrid, who do you think I asked where to go eat? And yes it was delicious 🙂 Not only do they have a blog (here) with extensive travel tips and suggestions but, they're going to be publishing a book soon! Congrats guys!
DeevatheExplorer
I don't need to introduce you to Denise from DeevatheExplorer because she was my March interview and first IGTV interview. However, I thought I would mention her again. Firstly, like me she's a Trini single woman over 30 like myself who loves to travel. Secondly, we're not into waiting on other people to go do what we really want to do. She's inspirational to me because of her drive and passion. One day we'll travel the world together :). You can check out her Instagram here.
Ashlee Major Ross
I discovered Ashlee's Instagram page some time last year and have been hooked ever since. Her story is pretty epic! Her previous relationship ended and looking for a life reset, she packed up and went travelling. When she returned, not only did she return a new woman but, she wanted a new career which is exactly what she has now. Her travel vlogs are honest and realistic, like being stuck in a lift in Egypt, which is pretty refreshing. It also gives an insight into travelling in a group if you find solo travel daunting. Oh and she'll be hosting a couple of trips later on this year to Madagascar and Bali. You can find out more about those trips here.
Clé Hunnigan
Another person that I discovered last year who is friends with Ashlee is Clé. A traveller and photographer which is a combination that fosters the most epic of images. Just one look at his Instagram and you get sucked into this world of visual storytelling. Currently in Ethiopia during their Easter festival which looks beautiful and informative. Each country or location he goes to you get to see something unique that you wouldn't see in the mainstream.
Absolutely Lucy
This woman is the epitome of girl travels solo. She's been practically everywhere and she is nowhere near finished. During lockdown she decided to purchase a van and convert it into a travelling van for road trips in the UK. She's so engaging that you can't help but love her personality and if she were to suggest hiking for hours up a mountain to watch the sunrise, you'd probably do it. Well….maybe 🙂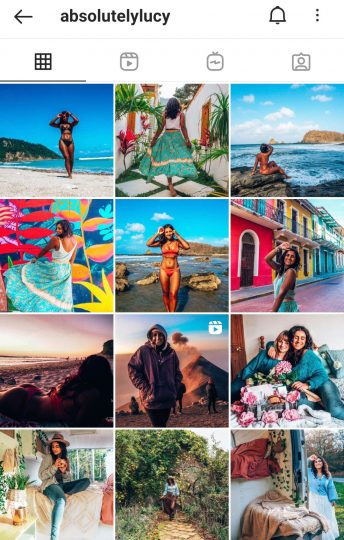 Of course I have tons of other people but these are the 5 travel junkies you need to follow right now. When you look at their social media, where would you like to visit? Let me know in the comments below! Also have you signed up to my monthly newsletter….if not, what are you waiting for? It's free, easy and I only send you an email once a month. Go on, you know you want to 🙂 Sign up!
Thank you for reading and until next time, be well! x