Hello gorgeous people, how are you? You know I enjoy a versatile piece of clothing that you can wear a multitude of ways. Today's post is all about that item that most of us over 30-something women have in our closet. This is rinse and restyle with the little black wrap dress.
The Little Black Dress
Like my previous rinse and restyle posts, here and here, I take one item and show 3 ways to style it. With this black wrap dress, I'm styling with a weekend city break in mind.
Scenario
This is the dress you throw into your suitcase when you've been invited last minute to the South of France for a weekend. It could happen! You have limited time to pack before leaving for the airport. This little black wrap dress is your answer for lunches, dinners, drinks and sight seeing.
Styling Option 1 – Out for drinks and dinner
Wearing black doesn't mean boring not if you wear accessories that pop! I love these pair of H&M wrap sandals. They're a comfortable height which means you can go straight from the dinner table to the dance floor (if that's possible coz you know Rona).
Styling Option 2 – Sight Seeing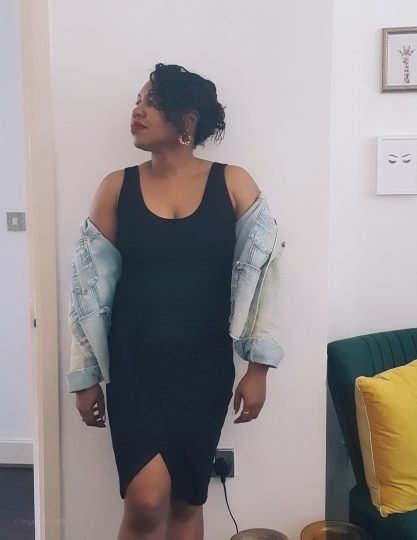 Who says you can't be stylish, sexy and comfortable whilst taking in the sights? Throw on a denim jacket and some comfy shoes and you're good to go.
I wore trainers but flat sandals like these would also work especially if you end up having drinks at a roof top bar to watch the sunset.
Styling Option 3- Brunch/Lunch
My final pairing is to turn the dress into a skirt. I just tucked the straps inside and voila, a wrap skirt. The 'skirt' was paired with a pale yellow silk and cotton tank top, and a denim jacket.
Throw on a pair of square toe mules and a pair of enamel earrings, which adds a vibrant colour. You're good to go for that lunch on a yacht. A girl can dream 😉
You can style the little black wrap dress other ways so you can more bang for your buck. Plus, expand your wardrobe without spending too much money.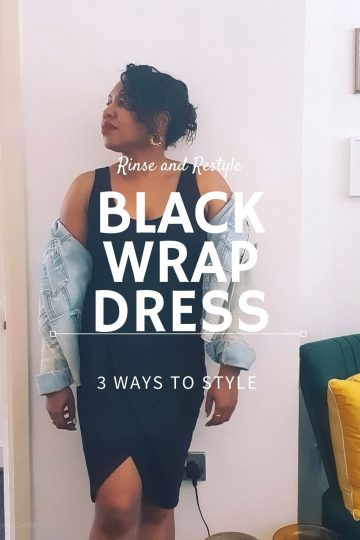 What do you think about the way I've styled the black wrap dress from Audrey Leighton Vintage? Let me know in the comments below and remember to subscribe 😉