Hello gorgeous people! How are you all doing? If you're a long time reader of mine, you would know that I have a teeny tiny obsession with sandals, boots, basically shoes of all kinds. It's been awhile since I've done one of these, so here are some shoes to buy for autumn 2021. I'm not telling you to go out and buy all, or even any. You might to look at them like I do and eventually buy if needed.
*this post contains affiliate links
Shoes to Buy for Autumn 2021
Ankle Boots
The thing with ankle boots are they can come in various heights. The low ankle one that looks great with skinny ankle length jeans. The slightly taller one, which you tend you find in a chelsea boot and finally, the much taller height that looks great with awkward length trousers. The taller height, have a way of elongating your legs if you find the shorter height ones don't. Here are a few of my favourites I've seen so far.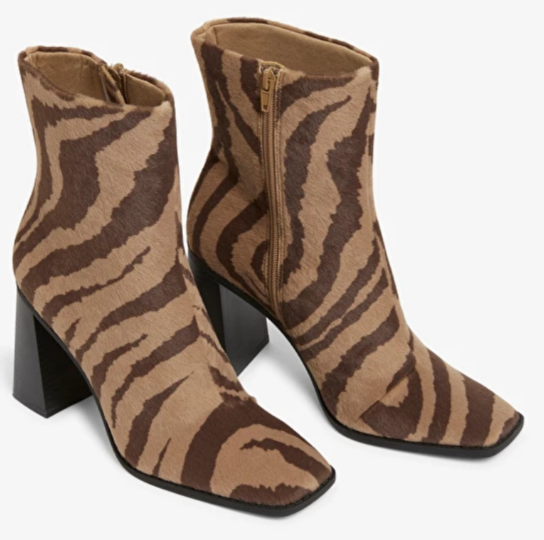 The first pair are from Monki and are for when you want to add a bit of fun to your shoe wardrobe but keep it neutral. Steve Madden and I like the chunky heel with the grips on the sole of the shoe. The final pair, I found on Zalando and gives me casual chic. It's a shorter heel and would look great with a cream knit dress.
Knee High Boots
These can wax and wane but somehow always end up being a classic. Hitting most people just beneath the knee, they're great styled with dresses or skirts that hit your thigh. Or, midi length dresses and skirts with slits. They're great in transistional weather because it's not arctic temperatures, yet. Plus, the variety of styles, colours and shapes they come in, you can choose a style that suits you. Here are a few that caught my eye.
These dusty white knee high boots are simply sublime and I wish they had my size in stock. I'm thinking a black and white look with them. What do you thinks? The second pair are from Nastygal and I have a simialr pair. Great for that autumnal look with all the browns and oranges. Finally, these suede knee highs are from H&M and currently in the sale. Can't go wrong with a classic black boot.
Over the Knee Boots
When I first moved to London, over the knee boots were something that I shied away from. Fast forward to having lived through my fair share of winters, they are a must! They keep my legs warm which for a Trini girl like myself is absolutely necessary. Plus, depending on the style and colour it can make an outfit look elegant. Here are some options if you're in the market for a pair.
These are both from Stuart Weitzman and yes I know they're not exactly the cheapest on the block. However, they last and last. Plus, you can always check *Amazon, BrandAlley or The Outnet for discounts which will be even better.
These are the shoes to buy for autumn 2021 should you need to. You may even already have a pair of each in your closet. Dust them off and style them up. Do you have a favourite pair of shoes that you're lusting after? Share them ini the comments below.
As always, thank you for reading and until next time, be well! x