Happy Easter my skincare junkies! I hope you had a lovely long weekend and was able to relax. In today's post I'm finally getting around to sharing my current nighttime skincare routine with Ren. As you know I like to trial things for at least 4 weeks before I share my experience. So here goes….
My Current Nighttime Skincare Routine with Ren
Most of the products I've been using in my nighttime skincare routine is from Ren Skincare. I had seen so much online about their products especially their AHA toner and Evercalm range. With this in mind, I decided to give it a try.
Cleanser
I'm pretty easy when it comes to cleansers and didn't expect it to wow me. However, the Evercalm Gentle Cleansing Milk impressed me. I use tretinoin via Dermatica and has been going hardcore in using it. Please take my advice and don't do this. When I used the cleansing milk, it soothed my skin and within 10 days my skin felt a lot better. The texture is cream like and it has a herbal like smell. It reminds of being in a forest which is a great visual when I'm cleansing my skin. I've mentioned before that I have a bit of seborrheic dermatitis and this has been incredibly soothing. When I use this any irritation is calmed and I love that. It's also great when you need to remove makeup.
Rating: 5/5; 150ml for £23
Ready Steady Glow AHA Tonic
You all know I'm a die hard Dr Dennis Gross alpha beta pads however, it's not exactly cheap and I needed an alternative. The Ready Steady Glow tonic is that alternative. Not only is it affordable but it does what it says on the tin! I use this at night when I'm not using tretinoin and my skin glows like a light bulb next morning. It's helped minimise my visible pores, reduces texture and has helped my hyperpigmentation combined with the tret. This product is also hydrating because it has mandarin, orange and tangerine oil. I wasn't sure about this at first but it's pretty gentle and you can always dampen a cotton pad before applying the tonic to it. This helps to dilute the potency until your skin builds tolerance to it.
Score: 5/5; 250ml for £27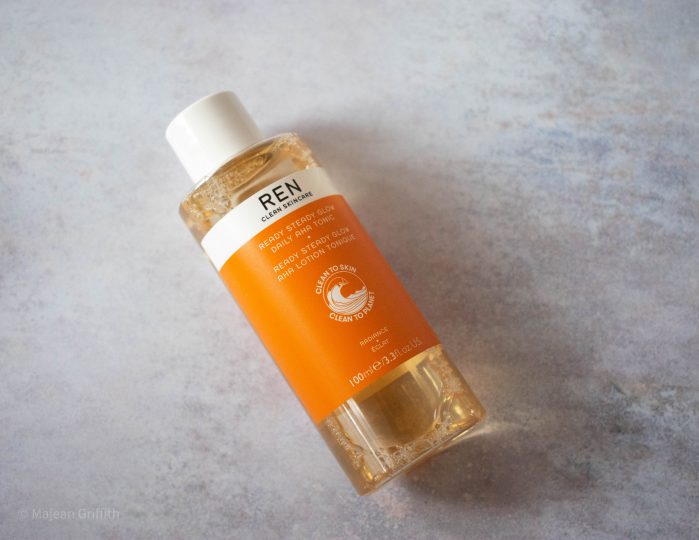 Evercalm Overnight Recovery Balm
This overnight balm has a consistency of vaseline but lighter and is also the most expensive product I currently use. It has a lot of goodies in it. There's jojoba oil, sunflower seed oil, moringa oil and more. When I apply this to my face, it doesn't clog my pores and it absorbs into my skin easily. After consistently using it for about a month my skin was soft and nourished. I didn't experience any breakouts and haven't since. There isn't any smell that I have noticed and it's great to use on dry lips. When I want to be extra, I spritz a bit of a mist and apply a facial oil before I use the recovery balm. It seals in all the moisture and a little bit goes a long way.
Score: 4/5; 30ml for £42
This is my current skincare nighttime routine with Ren and I'm loving it. Have you tried any Ren skincare products before? I'd love to know what your nighttime skincare routine like? Let me know what your nighttime skincare routine entails.
Thank you for reading and until next time, be well! x