Hello beautiful people! Welcome back to the blog where I share all my tips, knowledge and hacks for navigating this single over 30 life. We all know that I love to travel and especially if I can get a good deal on the trip. So although most of us aren't travelling for the rest of the year, here's how I went to Santorini for under £150. I will share exactly what I did and highlight tips for you.
How I Went to Santorini for Under £150
Santorini was probably the first Greek Island I visited and it really lived up to the hype. I went with one of my bff's and we had a great time! Yes it is typically sold as an island for couples but, you can go there with friends or solo.
Time of Year
One of the things I realised about Santorini was how busy it got over the summer holidays. I don't know about you but, travelling in the height of summer isn't the one for me. I know some people have kids and need to take this into consideration. However, when looking at flights, we found flights were cheaper in October. It was near the end of the season and it also meant that there'd be less people. We paid £120 per person for the return airfare. What I also did was to look at flights that had a stopover. We had a stopover in Athens on the way back to London. This allowed us to have a few hours visiting the ruins of Athens and a quick tour of the city.
Tip: 1) Book off peak, either at the end of the season or at the beginning 2) Look at flights that have a stopover which would allow you to see another place and give you a cheaper airfare.
The Hotel
I am generally chilled when it comes to accommodation but my 2 rules are location and cleanliness. Reviews are really helpful with this especially if the place is in some obscure location. So for Santorini, I found a deal on one of those voucher websites, for £25 for 4 days. Yes you read that right, it was £25 for 2 people. I read reviews on the hotel and it was pretty decent, plus it was opposite Perissa black sand beach. When we got there, we didn't like the room because it was too dark. So they kindly moved us to a nearby hotel which had a pool and beautiful mountain backdrop.
Tip: 1) Don't be afraid to book using a voucher website, just do your research!
Where to Stay
How I went to Santorini for under £150 also happened because we didn't stay in the popular location of Fira. We actually stayed nearby and took a short bus ride to Fira. Perissa is also quite beautiful with bars, restaurants and everything you would need. We even found an amazing 24-hour bakery that served deliciousness of all kinds. Think I might need to go back once they're back on the airway list :).
Tip: 1) Stay in the town near to the popular hot spot. It reduces costs and you see a different part of the place you're visiting.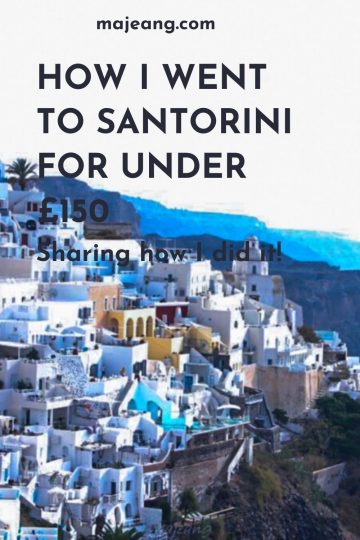 That my folks is how I went to Santorini for under £150! I had a blast and would visit again but maybe solo this time. There's so much of the island to explore besides amazing sunsets and drinking local wine. Have you been to Santorini? What did you think of the tips I shared? Do you have any of your own to share in the comments? I'll be waiting :).
Thanks for reading and remember to subscribe. Until next time, be well! x