Hello my skincare junkies! How have you been? How is your skin coping with being indoors for the past few weeks? I know that mine has been a bit drier but that's to be expected. Try layering light moisturisers to help combat the dryness. Moving on to today's topic, I am reviewing The Inkey list skincare products. I have divided the products I use into my morning and evening skincare routines.
Reviewing The Inkey List Skincare Products
Morning Routine
If you follow me on Instagram, I shared the products from The Inkey list that I would be using for my morning skincare routine. Let's start off like all routines do, with a cleanser.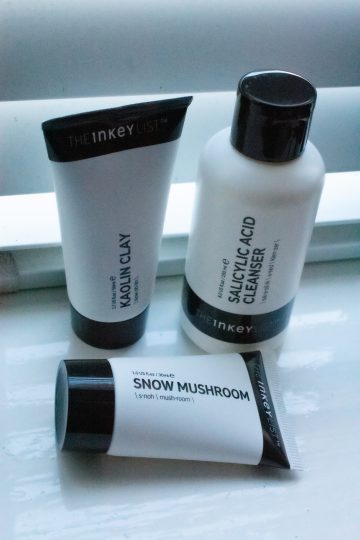 Salicylic Acid Cleanser
As the name suggests, it contains salicylic acid and is a daily cleanser. The Salicylic acid cleanser is a beta hydroxy acid (BHA) which is known to help clear out pores and is great for sensitive skin types. This is perfect for my skin type which is, oily combination with sensitivity.
My Thoughts
The cleanser has a clear gel like feel and only need a little bit of water to activate. There is a very subtle scent which is pretty negligible to me. I massage the cleanser into my face and neck for 60 seconds and then rinse. There wasn't that squeaky clean feel but, my skin was comfortably clean. I have visible pores on my t-zone and have found that there seems to be less congestion. Oh and I have noticed a difference on the redness on my cheeks.
Score: 4.5/5; Cost £10.99 for 150ml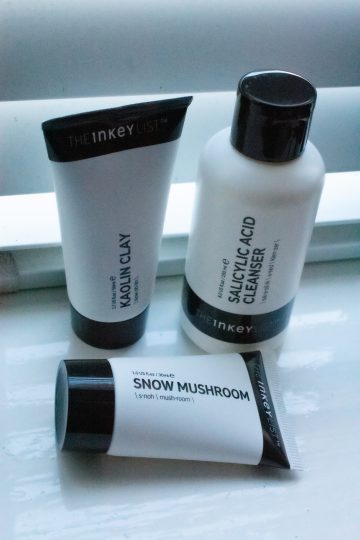 Snow Mushroom Moisturiser
A new moisturiser from The Inkey List, this contains snow mushrooms which is similar to hyaluronic acid in that it draws water to your skin. The difference is that snow mushrooms have smaller particles which penetrate the skin easier and quicker. One of the other reasons I chose this moisturiser is that it claims to have anti-inflammatory benefits.
My Thoughts
I haven't been this excited about a moisturiser in a hot minute! It doesn't clog my pores, easily blends with my spf and because it's a gel like consistency, it feels comfortable on my skin. I honestly cannot tell you what it smells like because I don't smell anything! My only complaint with this is, the size of the tube.
Score: 4.5/5; Cost £9.99 for 30ml
In between the cleanser and moisturiser, I have been using the Skinceuticals Serum 10 and Alpha Arbutin with Hyaluronic acid by The Ordinary.
Evening Routine
I have been pretty consistent with using these products for over 4 weeks. I used the same cleanser from my morning routine to the evening. Sometimes I alternate it with La Roche-Posay Effaclar H Cleansing Cream.
Niacinamide
This water soluble vitamin is said to tighten pores, reduce excess oil and redness, diminish dullness and soften fine lines. I have used niacinamide before but it contained zinc and that combination didn't seem to agree with me. However, I haven't noticed any breakouts or hissy fits from my skin when I used this, which is a plus.
My Thoughts
I think that Niacinamide is a slow burner which is fine with me. It's a great serum for me to apply on the nights I'm not using retinol. What I have noticed is that it helps with the redness on my cheeks when I apply it and prior to lock down in the UK, excess oil in my t-zone was a bit more under control. Again like the Snow Mushroom moisturiser, it's in a small size.
Score: 4/5; Cost £9.99 for 30ml
Ceramide Night Treatment*
For transparency this item was gifted to me.
Ceramides are your skins bff in preventing your skin from being affected by environmental factors. It basically locks moisture in your skin to protect it and by doing this your skin can benefit from anti-ageing. Sounds like a win, win to me, don't you think?
My Thoughts
I like that I can use this after my retinol so it acts as a bit for a buffer. This is great especially when my face starts peeling off. When I don't use it, I notice the difference and always regret not using it at night. It has a milky like appearance but feels a bit sticky as well. Think of a thick serum.
Score: 4/5; Cost: £14.99 for 30ml
Final Thoughts
I have really enjoyed reviewing the Inkey List skincare products. They're pretty affordable and I have noticed a difference with consistent use. I would definitely repurchase the cleanser and moisturiser because, it actually makes a visible difference. Plus it's easy to use with other products which is great in making your own bespoke skincare routine. The others, I would happily swap out for something a bit more potent.
Have you tried anything from The Inkey List? What's your favourite product from them? Let me know in the comments.
Stay safe and indoors. Until next time, be well! x
You can read my other skincare product reviews on Nars and Fresh Beauty.