You know I couldn't stay away from skincare, I am a junkie after all :). So today I come to you with a review on the Revitalift Filler Renew by L'oreal. I received the anti-ageing replumping night care and cream mask recovery treatment, as part of a prize I won in a twitter chat.
Packaging
Ok I am a sucker for packaging and L'oreal's packaging is luxurious. The containers are square shaped, with the edges rounded off. The lid is a screw top and comes with an inner cover so the product does not spill. It's night time luxury without the price tag.
Revitalift Filler Renew Night Care
When you open the jar and lift the inner lid, you get this sweet scent emanating from the jar. I did find that it was overpowering at times but not so much that I couldn't use it. The texture is a creamy consistency that dissolves easily into your skin when you massage it in.
Results: I've been using this product for about 3 weeks as part of my night time skincare routine and I like it. My skin feels smoother and my laugh lines appear to be a little less deep. I'm not sure if it's the night cream alongside with the…
Revitalift Laser Renew Cream Mask Recovery Treatment
A mouthful I know! However, this mask which is to be left on overnight after cleansing is meant to plump up, smoothen and firm up your skin. The consistency feels like a mix of a cream and a gel, so you don't get that greasy feeling. I do feel a slight tingle in some areas after application, it then fades and I'm left with a slight scent. I should mention the smell is not as strong as the night care, which is great.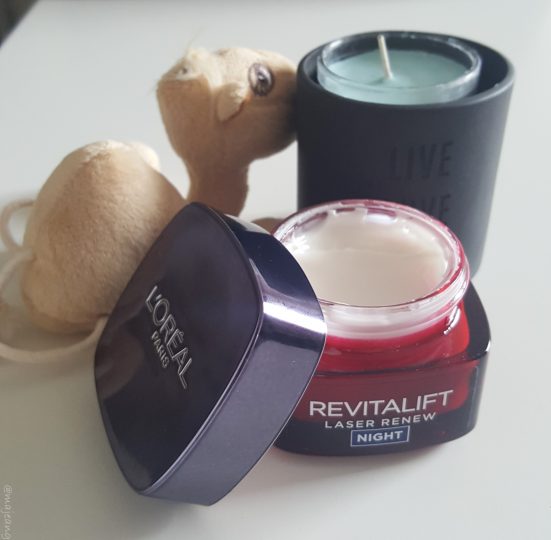 Results: My skin feels firmer, especially in the forehead area where my frown lines reside. They appear to be slightly reduced like similar to my laugh lines. Again, I've been using this for 3 weeks and only 3 times a week.
Final Thoughts
I really like both the night cream and mask from the Revitalift Filler Renew range and will continue to use them. The consistency for both are excellent and there's either very little or no greasy residue. The only downside in my opinion is the slightly overpowering scent in the night cream, but I have gotten used to it.
This is luxury without a huge price tag, because both products are under £20 each. If you're in the UK, Boots has a special offer on L'oreal products that you can check out.
Have you tried any of the products I've mentioned? Or any of the Revitalift FIller Renew range? Leave a comment below.
As always thank you for reading. Please don't forget to subscribe to keep up to date.
Until next time, be well
x
Save