Happy Saturday my fashion giraffes! How was your week? I know mine was a bit intense but it's the weekend so hurray! As we know summer has well and truly left the building, which means it's time to pack away some of the cute summer stuff and look towards our autumn wardrobes. I'm not one for purchasing an entirely new autumn wardrobe every year but, I do like to add a few pieces as the months go by. With this in mind, here's my under £30 autumn fashion wishlist.
Under £30 Autumn Fashion Wishlist
Tops
Spring and Summer time we saw the emergence of florals, as we do every year. Luckily, it's a trend we can carry on into autumn so when I saw these lovely blouses they went on to my autumn wishlist.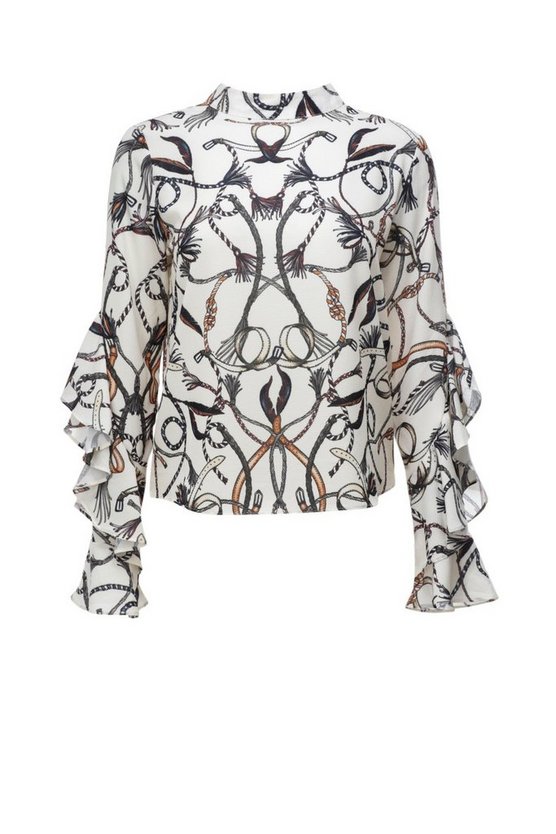 The first blouse is from New Look and is currently reduced to £14.99. I liked this blouse not only because of the florals but I think the neckline is quite flattering. This is the kind of blouse that can go from day to night effortlessly. Throw on a pair of black jeans or faux leather trousers and you're good to go! The same goes for this high neck rope print from Nastygal. Those sleeves carry on the ruffle trend without being too overpowering.
Dresses
A dress is the easiest thing to throw on when the weather isn't pleasant. Pair with some tights if you feel the cold like I do or, wear over a pair of jeans giving a nod to this new trend. Here are a couple I would love to purchase.
Let's talk about this aubergine coloured dress from Zara which comes in at an affordable £15.99. I like this because it is so versatile. You dress this up with metallic accessories or, dress down with a denim jacket and casual ankle boots. The stripped dress from New Look is perfect! First, it's black and white so you can go wild with the accessories. Secondly, you can wear with skinny jeans or, any height boot! There's also the option to layer a knit under the dress and thrown on a leather jacket. This fabulous piece is at the top end of my under £30 autumn fashion wishlist at £29.99.
Shoes
You know I couldn't do an under £30 autumn fashion wishlist without including some shoes! I mean who would I even be? I have a love for boots of all shapes and heel heights but these pairs have caught my eye.
These grey studded boots are a nod to the Chloe Susanna boots but at a fraction of the price. I already own the black pair from Deichmann and of course when I saw the grey version my heart skipped a beat. Not only will they go with more than 80% of my wardrobe but, they'll also go with the tops and dresses I've mentioned.
Finally, these blue ankle boots from Shoeaholics are great if you want something that isn't black but can still give the effect that black boots give. I love that they're slightly higher than your average ankle boots and the ties behind have some gold detailing on them.
Now that I've enticed you with my under £30 autumn fashion wishlist, what will you be buying for the autumn season? Do you add to your existing wardrobe? Or do you like to start from scratch every year? Let me know in the comments below. I'm also thinking of doing a post on investment pieces for the autumn and winter, is this something you'd be interested in?
As always thank you for reading and commenting. Don't forget to subscribe!
Until next time, be well!
x